Dji phantom 3 pro - Bloemfontein
Saturday, 12 March 2016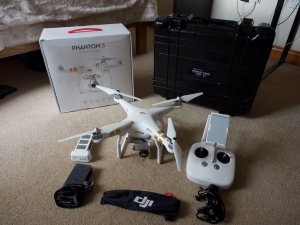 Item details
City:
Bloemfontein, Free State
Contacts

kelly
Item description
New DJI Phantom 3 PRO as I have only used 7 times since getting it.
You should not need to buy anything else with this set-up.
All Firmware it updated to latest spec, so out of the box and ready to fly.
I might have missed an item or two off the list but I will check around the house.

The Complete set consists of...
1 x DJI Phantom 3 PRO Drone with HD Camera/Video Unit
1 x DJI Phantom 3 PRO Controller
1 x DJI Phantom 3 PRO Battery
1 x DJI Phantom 3 PRO Battery Charger
1 x Take Off/Landing Pad.
1 x Angel Discharge/Store Unit (£40)
1 x 4 Way Battery Charger
1 x Car Battery Charger
1 x Nexus 7" Tablet Gen 2 (£100)
1 x Screen Hood (For Nexus)
1 x Strobe Meter (Motor Speed Tester)
2 x Sets of New Carbon Fiber Props Never Used (One White Set & One Black Set)
1 x Set of Standard Props
1 x Set of Push on Prop Protectors
1 x Set of Training Steady Landing Feet
3 x Camera Filters
1 x Camera Lens Cover
1 x Prop Balancing Rod
1 x Wind Speed Unit
1 x Landing/Take Off Pad
1 x Set Range Extender Antenna Reflector
1 x All Paperwork.
1 x Carry Case
And the Original DJI Phantom 3 PRO Packaging.

The DJI Phantom 3 PRO System has only been used a handful of times and the accessories are all brand new.
Please Email me if you would like more details or pictures.