Dinos alive the exhibition - Bloemfontein
Friday, 15 May 2015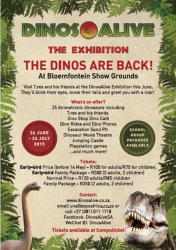 Item details
City:
Bloemfontein, Free State
Contacts

Una

0810111718
Item description
Dinos Alive Exhibition is coming to Bloemfontein from 26th June to 26th July 2015. With 25 amazing dinosaurs that blink, breathe and even roar, you are bound to have a great time. Come and visit the likes of T.Rex, Triceratops and even the "Raptor".
We all remember Jurassic Park, where every kid's dream of seeing living and breathing dinosaurs came to life. Now we all can relive that childhood dream of seeing life size moving dinosaurs!
Dinos Alive tells the story of dinosaurs from the Mesozoic Era, from 250 million years until 65 million years ago approximately. It`s about a careful selection of the most representative specimens of prehistoric times that allows us to know about their behaviours and their actual dimensions.
Geared towards the entire family, this exhibit does not only compose of life size animatronic dinosaurs, but also hands on activities for children to experience. The exhibition creates the illusion that you are alongside the dinosaurs very effectively. The exhibition offers a hands on opportunity for kids to make the dinosaurs move as well as fossil digging, quizzes, fast facts and dinosaur skeletons. Kids will delight in the movement of the dinosaurs and parents will love the joy on their faces.
Bring the kids (as well as the kid in you) this June to the Bloemfontein Show Grounds and experience Dinos Alive!
Tickets available at Computicket or at the door. Normal Price - R120 Adults; R85 Children
Family Package - R350 (2 Adults, 2 Children). Doors open daily from 09:00 – 19:00.
Don't miss out. Get your tickets today.