Ragdoll Kittens - Bloemfontein
Tuesday, 20 February 2018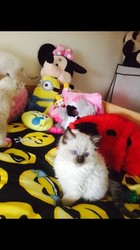 Item details
City:
Bloemfontein, Free State
Contacts

Van
Item description
Stunning Baby Ragdolls Ready from 22nd Feb At 8 wks, Vet Pending. Mum & Dad Pure Ragdoll's, HCM/PKD Tested Negative. Both are mine & can be seen.
Also in Pics 5 & 6.
Typical Ragdoll Breed, Very affectionate & loving, Soppy as anything !. Bought up in our lounge with other Cats & 2 Small Dogs. Used to Household Noises, TV, Radio, Hoover etc.
This Babies are Very Outgoing & Confident. Weaned On Royal Canin Mother & Babycat Biscuits, Litter Trained, Used to Scratchpost, will be wormed etc by my Vet. No Papers.

Pic 1 & 2 last little girl
Kittens Will Come With :
Care sheet
Food
Enough Litter to fill tray
Fleece With Mums scent on
Toy.