ISO Standard Shipping New/Used Containers Cargo Worthy Wind Water and Air tight - Bloemfontein
Tuesday, 31 January 2017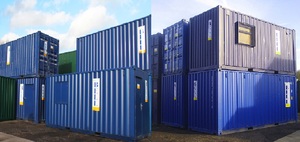 Item details
City:
Bloemfontein, Free State
Contacts

Fredyy

0638026507
Item description
The picture shown does not indicate the actual containers for sale but shown to illustrate product.

Overall condition of the containers:
Wind & Water Tight (WWT) – A criterion under which containers are literally "wind and water tight". In short, if you lock yourself inside the container, you should not see any light coming through the panels or roof. It should be noted that this criterion however makes no reference to the quality of the understructure. A WWT container should therefore not be considered safe for the transport of cargo; unless it is explicitly confirmed it meets the CSC. WWT is commonly used to describe and qualify used storage containers.

FOR MORE DETAILS CALL US ON THIS NUMBER 063 098 9668 063 098 9668 063 098 9668

Cargo Worthy (CWO) – Criterion under which a used shipping container is deemed suitable for the transport of cargo under TIR / UIC / CSC, and meets all the standards laid out in its original specification. The CW Cargo worthy standard generally implies that the container has a valid CSC. The meaning of Cargo Worthy has no correlation to an esthetics value. Cargo Worthy is a condition of structural integrity. Cargo Worthiness can be certified by a third party container surveyor pursuant to a physical inspection of the used shipping container.

Please Note: All CWO and WWT units will have some surface rust. The doors may be firm to open. The flooring would be sturdy. The container would not have any leaks.